With the hype of a new decade comes the latest and greatest reveals meant to shake up how we communicate, travel, consume and experience our surroundings. The event industry is constantly evolving - organizers are charged to incorporate new technology and trends while meeting the challenges that come with planning fresh, engaging and memorable experiences. 2020 poses a greater push for personalization at events now more than ever. Attendees are now expecting individualized engagement regardless of the size and scale of the event. Accomplishing this sort of personalization, especially for large conferences, is a grand feat for any production team – yet, keeping in the know of the newest tech and activities to make events all the more memorable. To better equip you with the latest and greatest news in events, we've shared our list of the biggest trends due to impact the event industry in 2020. See how your productions compare and stay ahead of the movement.
Experience Personalization
Attendees are expecting a fluid, adaptable experience at events – structured itineraries and single thread workflows are just not enough to engage diverse, multifarious audiences. Just as in everyday life from what kind of coffee you'll have this morning to when you'll take lunch, event goers are looking to build their own event experience and pick and choose how and when they experience a day or more of sessions. Knowing how and what to emphasize for any individual attendee's experience nowadays relies on data obtained before - and more impressively – during the event.
| | |
| --- | --- |
| | "With an average of 30% of all marketing budgets being spent on live events, the importance and value of our industry continues to be embraced by key decision makers. Attendees desire to actively interact and participate within an event. They also want the ability to personalize their event journey. As multi-sensory experiences are used to captivate attendees, technology continues to play a key role in forging a deeper connection to brand and message." |
Your Personal Voyage Just got Faster with 5G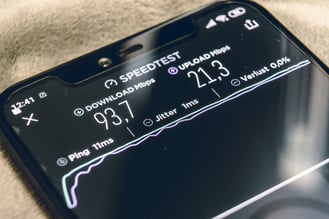 The proverbial "flying car" has long been the unofficial metric of innovation and progress with every passing year. Though we may not be flying yet, technology is helping us connect at faster speeds, even behind the wheel. The buzz over 5G has been picking up in recent months with little discussion about what 5G really is. Put as simply as possible, 5G, like 4G before it, is a compilation of set standards for cellular network speeds from radio frequencies to the computer chips and radio antennas used to exchange these signals. As technology advances, engineers and companies redefine these new specifications to create a new "generation" of accessibility – 5G being the impending generation upon us. This means faster download speeds, less lag for streaming and much more.
What does this mean for events? A seamless experience. VR for example often still requires wires connected to personal computers to create 3D images in rather bulky headsets. 5G offers the possibility of unplugging us from these PCs and making a virtual experience unhindered by these physical restraints. This also means more complex displays for exhibits an live video animations that make the event experience unique to the present happenings in real time. Its predicted that we won't see a fully 5G world become a reality for at least another five years but the possibilities we see now are boundless.


A Wearable Experience
Wearable tech is quickly becoming the norm at events worldwide and the potential for their uses are changing just as fast. What was initially a staple in the retail world has developed into a multipurpose device to streamline attendees' event experience. From room keys, to a convenient means of payment, to linking your social media accounts and more, RFID tech like the popular name, Klik, boasts the endless potential of data for event producers, exhibitors, marketers and some of our decade's most famous performers.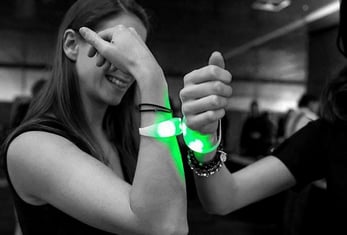 Having this data at hand allows for real time personalization by event staff and exhibitors to create experiences that are best tailored to attendees' individual needs without going back to the drawing board for next year's show. Marketo reported that 79% of consumers prefer to engage with brands they have interacted with in the past. Knowing what and who is gaining the most engagement from attendees allows for an opportunity to push these brands and activities in front of them more for the best experience for attendee and exhibitor.


Individualize your Journey with Branded Apps
The use of apps for live events have doubled since 2017. Because of this spike, apps are not just common but expected by attendees. How do you go above and beyond when developing an app to create a unique, impactful and user-friendly experience for your attendees? Branded apps hold the most potential for producer/attendee engagement by its – you guessed it – potential for personalization. The most impactful event apps all have combinations of these three things just to name a few:
Sponsorship Opportunities – For organizers, having this option is beneficial to compensate for the cost of the app itself. Allowing "retail space" in your app for major players of your event allows seamless exposure and branding opportunities for your sponsors.
Unique Push Notifications – Ideal use of personalization is not just information attendees seek out but also how producers present relevant information back to them based on their desired interests. Give due attention to attendees' unique event flows by keeping them abreast to any changes and alerts that is significant to them. Avoid oversaturation of information and streamline your communication to attendees.
Gamification – Incorporating gamification to your event app can mean changing the delivery of your live content. Making these changes, however, are all worth wild when attendees are engaged in the content more than sitting quietly to a general session speaker.
Artificial Intelligence - Go Above and Beyond your Friendly Chatbot
Chatbots, the more common use of AI at events, has proven to benefit event producers, staff and attendees alike with added efficiency and knowledge at your fingertips. The potential of AI at your event can be immeasurable once you start looking at chatbots as a part of your team and less like a tool. Chatbots are the voice of your brand, they act as "on-site staff" for attendees with immediate questions. This AI has the potential to make recommendations to users based on data they provide during their communications or throughout their time at your event, making the ability to adjust your message and delivery live more seamless than before.
Stay ahead in the industry means not only staying informed of the latest trends but also working with a team that has the expertise and drive for innovation. Let LSAV POWERHOUSE's resourceful event production team create a space that fully captures the vision and mission of your event.Visit our portfolio here and reach out to us for more information.