Billie Eilish a chart-topping favorite in the music scene is at the tail end of her 2019 world tour. Her music style, which has been described as "ethereal", was accompanied with art and scenic that complemented the artist's unique sound. The graphics program responsible for her otherworldly designs and other artists' stage treatment is Notch – and it's setting a standard for live events.
What is Notch
Notch is a node based motion graphics, VFX and VR program with a real-time WYSIWYG ("What You See is What You Get") Workflow. Put simply, Notch is a program that allows users to make graphics and animations in real time for live productions with no coding needed.


Key Features
Notch uses its own exclusive DirectX-based engine for rendering VR motion picture in real time. The program features allow users to clone objects, link them to particles, fluids and volumetrics, lighting and IMAG modification to create cohesive and detailed designs for live events. What's notable about this program is that those without a formal background in motion graphics can utilize its tools with the base package of Notch while the professional package boasts more complex options like integration with media server d3 for veterans in the motion graphics game. The builder uses familiar tools like color grading, screen warp and motion blur while the work space looks similar to that of Adobe Effects, making it a program that is straightforward for VJ's and video engineers to acclimate to, with all the added visual design benefits it has to offer.
Why Designers Choose it - Integration
Notch proves itself to be a program adept to integration. Because it is designed to be a high-quality video codec, Notch allows you to build images from scratch or upload your own design elements for real time use and playback. Notch can be pushed through with MIDI, video or motion capture data input live or offline; it can also be integrated with Microsoft's Kinect and Intel's RealSense 3D cameras. It's a system that gives users the ability to accommodate on-the fly changes and puts control of the content into the hands of the media server operator rather than back at the office or in the editing suite. Notch cuts down on rendering time for users, allowing last-minute live changes to be made at events making it a program that boasts the flexibility to engage with your audience.
| | |
| --- | --- |
| Chris Lieggi, LSAV POWERHOUSE Video Engineer | "What excites me specifically about Notch is, from a creator's standpoint, it combines all the tools we're used to working with in programs like After Effects and Cinema 4D but lets us apply the effects to live video inputs and modify the effects in real-time with interactive inputs like Kinect, MIDI or OSC controls, DMX from a lighting console, or along the timeline in a media server. This means, video engineers on site can make off the fly changes rather than having to go back to the drawing board and edit animations in the office." |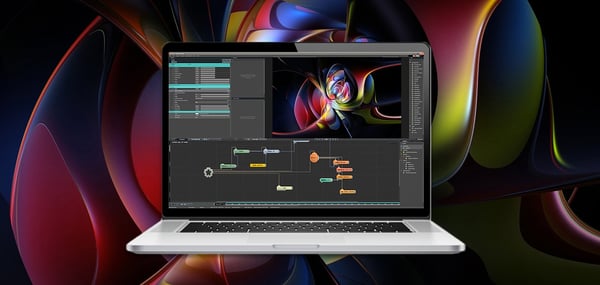 Notch is also able to utilize Al to perform face tracking tasks – doing so can result in a 2D mesh of 68 vertices for a face. Put simply, like the Snapchat filters or iPhone Animojis we are familiar with, similarly, Notch can alter figures, make facial gestures and more at a live show. The program's ease of integration and familiar workspace set up makes it efficient for making detailed and original video animations, relieving video engineers of additional time spent on editing and more time to be creative before and during shows. Notch is a system made to unhinge the imagination in visual art and bring it to life at live events.
Technology is a driving force of change in the event industry. Stay ahead of the rest with innovative ideas and tools to create the most engaging and talked about experiences for your attendees with LSAV POWERHOUSE. Check out our other blogs here and then contact us for a consultation.